Dentistry
MEDICO CLINIC makes continuous investments in equipment, expanding the range of services offered with a view to turning a visit at a dentist's into sheer pleasure. Our skilled, competent staff and adequate resources ensure successful and painless treatment.
Free oral cavity inspections and consultations
Visit us for a periodical check-up. Comfort and health of our patients is the priority for us. Our individual approach means that you will not only be informed about the current condition of your teeth, but also advised on possible treatment or prophylaxis procedures that will be the best for you.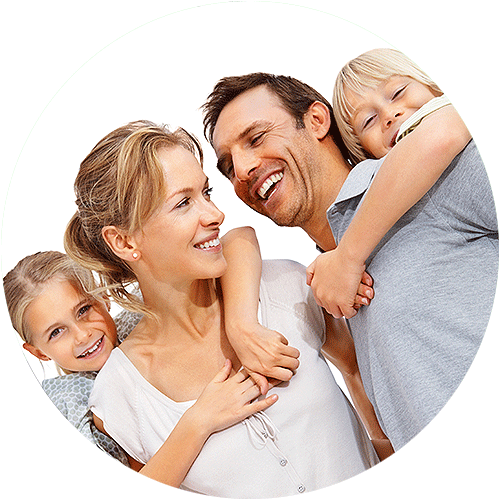 Needle-free anaesthesia
We use The Wand System which is the safest and the most precise anaesthetic method, controlled by the computer.
 The main advantages of The Wand System:
do not cause pain,

computer-guided anaesthesia does not damage soft tissues,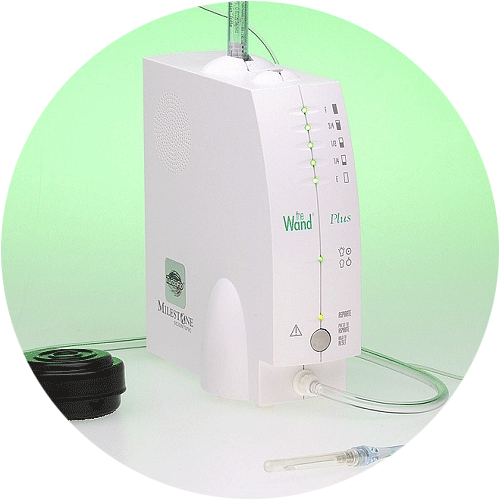 Conservative dentistry
caries prophylaxis,
painless caries treatment (with the use of KaVo abrasive air polishing unit, MEDICO CLINIC offers treatment without a dental burr),
treatment of tooth hypersensitivity (it is one of many specialist functions of VECTOR device, which, i.a., fight with the causes of periodontitis),
reconstruction of damaged tooth crowns.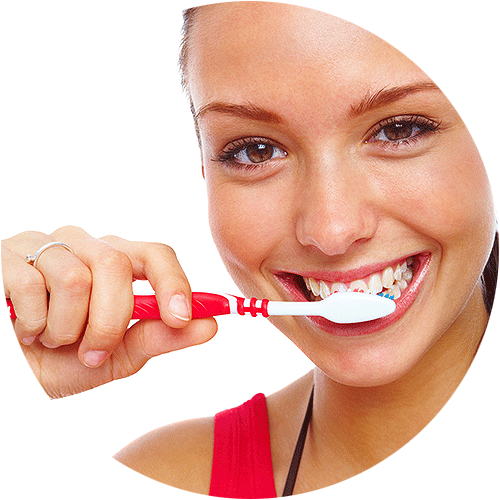 Paediatric dentistry
In MEDICO CLINIC youngest patients are more than welcomed. This attitude is not only evidenced by the services we offer, but also by the friendly atmosphere and special equipment for kids:
painless caries treatment (no more fear of a dental burr!),
placing a dental sealant (this painless procedure reduces the risk of dental caries in 90%),
teeth varnishing (various preparations containing fluorine are applied directly onto a tooth surface, thus making it less susceptible to decay).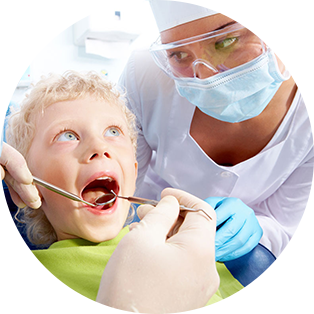 Aesthetic dentistry
In today's world being healthy is not enough. Our clinic offers a wide range of dental procedures improving your appearance:

professional teeth whitening (the whitening effect is several times stronger than in the case of other methods, it is durable and very satisfying to the patients),
removal of tooth discolouration,
porcelain veneers,
implantology.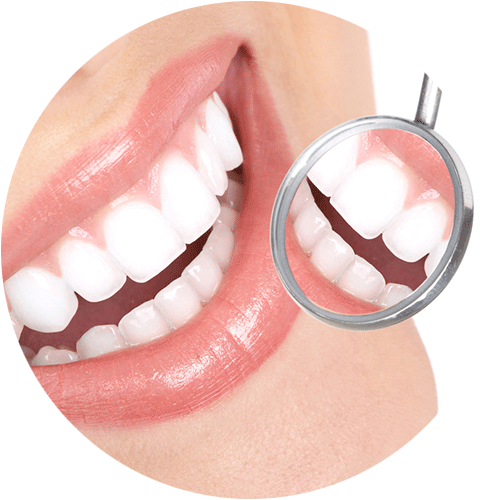 Prophylaxis – professional cleaning
removal of the tartar (scaling),
air polishing,
MEDICO CLINIC offers two types of air polishing:
dental fluoridation (a prophylaxis procedure that strengthen the tooth enamel and make is less susceptible to decay),

placing a dental sealant (this painless procedure reduces the risk of dental caries in 90%),

Tooth Mousse (a water-based, sugar free dental topical cream that provides a mineral balance in the mouth).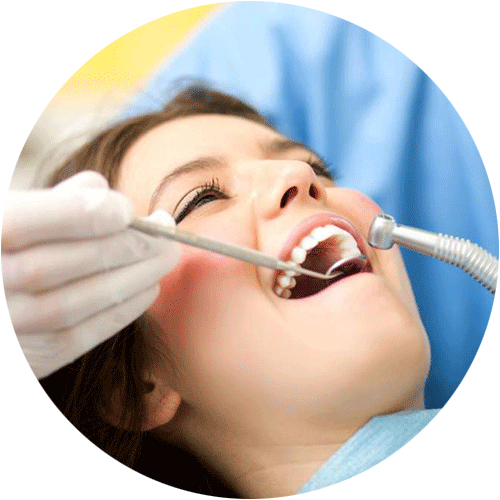 Endodontics
Endodontics, commonly known as root canal treatment, is a dental procedure the purpose of which is to remove the infected or dead radicular pulp from the pulp chamber and root canal system and to provide mechanical and chemical treatment of the system. Subsequently, the treated tooth is filled with a specialist material and tightly sealed.
Prosthodontics
Prosthodontics is a branch of dentistry specilising in restoring original occlusion conditions after teeth loss or massive damage.
Treatment stages:
decision on the material to be used
taking the impressions and making the cast,
scanning the cast to produce a virtual image in the computer's memory (CAD),
sending the digital design to a digital milling machine (CAM) via dedicated software; based on the design the machine produces a single or complex construction (depending on whether a single tooth or a whole tooth arch is to be reconstructed),
when the structure is ready, dental facing with ceramic dental veneers is performed.
CAD/CAM technology enabled the elimination of numerous manual stages of preparing sub-structures for the ceramics, which was the most common cause of inaccuracies and deformations in the designed constructions.
Etapy pracy:
decyzja o rodzaju wykorzystanego materiału,
pobranie przez stomatologa wycisków oraz wykonanie modelu,
skanowanie modelu i otrzymanie wirtualnego obrazu w pamięci komputera (CAD),
uruchomienie programu, który pozwala na przesłanie do frezarki numerycznej (CAM) cyfrowego projektu, według którego maszyna wytnie konstrukcję prostą lub złożoną (w zależności od tego, czy zajmujemy się pojedynczym zębem, czy też całym łukiem),
po otrzymaniu gotowej struktury następuje licowanie ceramikami dentystycznymi.
Ortodoncja.
aparaty stałe (metalowe i porcelanowe).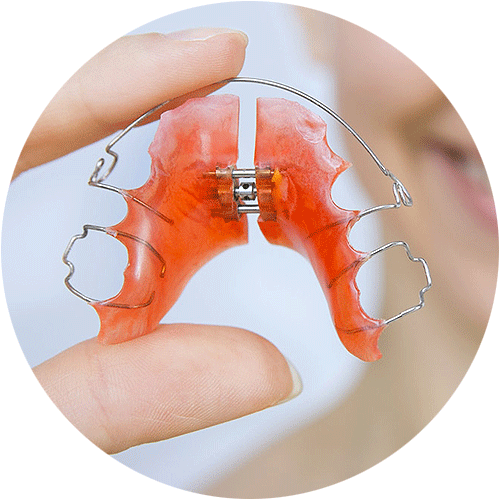 Chirurgia i periodontologia.
Periodontologia to leczenie chorób przyzębia, odnawianie do stanu pierwotnego lub fizjologicznego liczby kości, w którą można wszczepić implanty.
Wskazania do zastosowania terapii laserowej to między innymi:
ropień,
gruczolak,
afty,
biopsja,
guz dziąsła,
włókniak,
naczyniak,
opryszczka,
odsłanianie implantu,
sterylizacja kanału,
brodawczak.
RTG zębów.
Jedną z najważniejszych funkcji w procesie leczenia stomatologicznego pełni diagnostyka radiologiczna. Zdjęcia RTG wykorzystywane są w leczeniu chorób przyzębia, chirurgii, stomatologii zachowawczej, protetyce oraz ortodoncji. Dzięki zdjęciom pantomograficznym oraz cefalometrycznym (bocznym) możemy ocenić nie tylko stan zdrowia zębów, lecz także niezwykle ważnych stawów skroniowo-żuchwowych, zatok, przegrody nosowej i wielu innych elementów.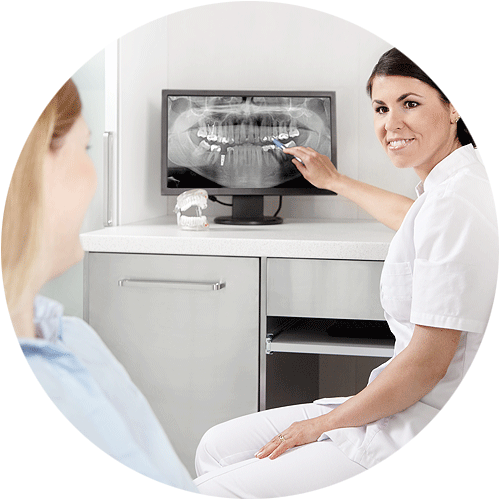 Tomografia 3D.
Trójwymiarowy obraz w badaniu tomograficznym wiązką stożkową Newtom.